Spinal Decompression
Care Chiropractic Center is pleased to offer the Triton Decompression Traction System (DTS) which is used for spinal decompression therapy, an advanced form of spinal traction. Spinal decompression therapy can be a successful, non-surgical alternative treatment for relieving low back, neck pain, and radiating arm and leg pain. Spinal decompression therapy is an effective treatment for:
Herniated or Bulging Discs
Sciatica
Degenerative Disc Disease

Post-surgical Patients
Facet Syndrome
Spinal Stenosis
Spinal decompression therapy is a modern, non-surgical traction procedure that effectively treats low back, neck, and radiating leg and arm pain. This type of traction is very successful in relieving pain associated with spinal disc herniation, degenerative spinal discs, and facet joint syndromes. Spinal decompression therapy decompresses spinal discs and facet joints by utilizing traction, distraction, and body positioning.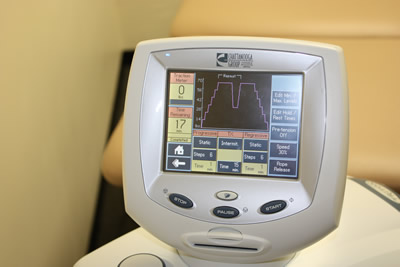 By significantly reducing internal disc pressure, the Triton DTS promotes retraction of the herniation spinal disc material back to a normal physiologic position and promotes the intake of fluids, oxygen, and other substances necessary for healing the spinal disc and surrounding tissues. This decompression stimulates the repair of tissues and inhibits leakage of the internal material of the spinal disc (also known as the nucleus pulposus).
Recent research has shown that 86% of the 219 patients who completed decompression therapy reported immediate resolution of symptoms, while 84% remained pain-free 90 days post-treatment. Physical examination findings showed improvement in 92% of the 219 patients, and remained intact in 89% of these patients 90 days after treatment (Gionis, Thomas MD; Groteke, Eric DC. Surgical Alternatives: Spinal Decompression. Orthopedic Technology Review. 2003; 6 (5).